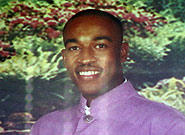 Pastor Frederick Deshawn Dew claims his alleged sexual assault of a child under 14 was perpetrated by another African American. He claims he did not brush against or touched a young boy in a public library. He claims he did not trap the same young boy in a bathroom in order to perform and act of oral copulation. Of course, he makes these claims dispute eye witness accounts and a security guard who identified him leaving the scene with his "Jesus" front licence plate.
How would a prosecutor think? Dew was in the library by his own admission. The boy complained to security about the attempted molestation, security and the boys positively identified Dew as he fled the scene. The boys are innocent - they have no ax to grind. I've watched Law and Order, this is the part of the story where you take the plea bargain.
But still, it could have been some other African American driving a car with Jesus as the front licence plate....
Oddly, the alleged molestation occurred at the Martin Luther King Jr. Library. What was he thinking?
two inmates who were in the barred holding area with him began a profanity-laced tirade as the judge began reading the charges against the pastor. One inmate yelled out, "Are you serious, man? That's what he's here for. He's a coward." The other inmate said, "I'm not standing in here with him. He's raping children." The judge ordered both of them to step out as court continued.
I think protective custody is in order.
Dew's story is simple:
The pastor said he was at the library Thursday preparing a Bible lesson for an upcoming church conference on relationships. He said he did not see a teenage boy at the library and alleges that detectives were pushing him to confess.
Members of the Praise Tabernacle church, stand behind their pastor. Of course they would. Of course they would.