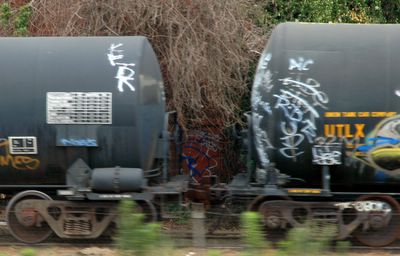 I was driving south (quite fast), the train was going north; I shot from my window at arms length while trying to capture the train on the right. I shot the middle instead. I am not disappointed, I like the way the train cars frame the graffiti on the wall behind the train, and the differing levels of blur are appealing.
I Googled (ok – I yahooed) train graffiti and came up with a sight dedicated to this art form. It is called
Visual Cancer
- Very cool. I'm adding it to my blogroll.
Tag: graffiti