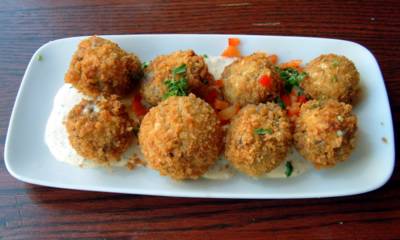 Stuffed Mushrooms
© Copyright 2004 Mojoey
Cafe Tu Tu Tango
is a tapis bar located in the block of Orange, an outdoor mall in Orange County California. These Stuffed Mushrooms were made with blue cheese, roasted garlic, scallions, and fresh thyme. They are served on a bed of Horseradish remoulade. I enjoyed the mushrooms, along with Spanish antipasto, grilled hoisin wings, and beef skewers. Average price is between $7.50 and $11. Oh, and none of this stuff is really Atkins safe.
Café Tu Tu Tango has an excellent bar with a wide range of beers and wines. Their house sangria is very good. I can drink it by the bucket.
I really do like this place. I have eaten there maybe five times in the last six months. The quality is consistent and the service is great. The restaurant is full of amateur and professional art (all for sale). They have entertainment of some sort each night and painters on usually onsite producing new works. The best tip is people watching. Get a seat on the patio and watch the people who happen to walk past. It's great fun.