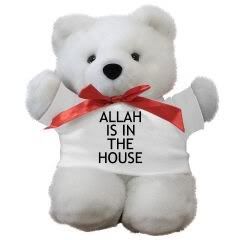 Is it possible to classify a whole country as nutballs? After reading this article, Sudan now officially qualifies for nutball status.
A British teacher jailed in Sudan for letting her class of seven-year-olds name a teddy bear Mohamed, has been charged with insulting religion and inciting hatred.

Gillian Gibbons, 54, was also charged with showing contempt for religious beliefs and could face up to 40 lashes and six months imprisonment under Sudan's sharia law.
Source: Sudan charges Briton with inciting hatred over 'Mohamed' teddy bear. By Amol Rajan
Gillian Gibbons is going to have the snot beat out of her because she taught Muslim children how to think. In the process of thinking, they named a teddy bear Mohamed. What the hell? Religion blows. Islam blows, sharia blows, the Sudan blows, it all blows.