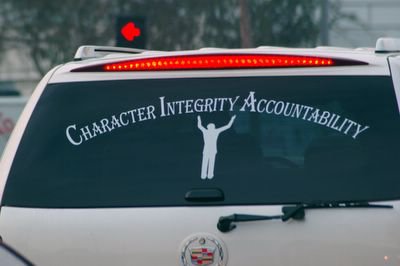 I took this picture on my way to work this morning. I had noticed CIA or "Character Integrity Accountability" as window stickers on several SUVs recently. I knew it must be a new religious movement because most cars had other Christian related bumper stickers prominently displayed. This morning, CIA almost became imprinted on my front bumper. The driver of this mega sized Cadillac Escalade cut across two lanes of a highway causing me to panic stop. I honked my horn in irritation, but not in anyway that would be considered abnormal. The plump woman driving the Escalade jumped out of the SUV and flipped me off. Then she shouted and pointed at me as if I had done something wrong. I pulled back and then drove around her fearing a further confrontation. She followed, at times very close to my truck's rear bumper, honking and flipping me off all the while. It was great fun. My guess is that I embarrassed her; There were others in the car.
It turns out CIA or "Character Integrity Accountability" is a Christian movement. It goes under the name
Character that Counts
. The purpose:
To communicate the unique and critical message of character (doing right), integrity (being whole through Christ) and accountability (honestly reporting to one another) into our daily lives.
Their mission seems sound. I do not detect the dark side of religious mysticism here, only an effort to improve the lives of others through the teaching of moral values. Of course, some people may need a little more training.
Technorati Tags: CIA, Character Integrity Accountability, Christianity, Photoblogging