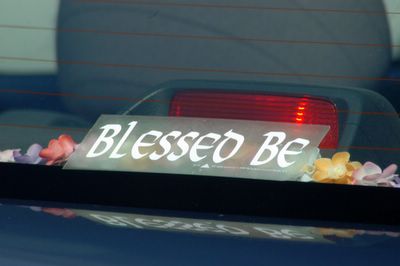 Those who follow
Wicca
have fascinated me for years. It is the only recent pseudo religion that you can follow back to its roots in make believe. I need to do a couple of posts on nutball Wiccans, because there are a few!
I normally post these type of shot to my
bumper stick blog
, but since it was my first witch sighting I thought it appropriate to post it here under the nutball category. The funny thing is... well I thought she saw me take a picture because she followed me home, right up to my driveway in fact. I was thinking of a good excuse for photographing her on the sly when I noticed she had turned into the driveway to the house across the street. My neighbor is a witch – too cool.